About
Pause to Support a Cause, a milestone CMO Council campaign, will enjoin global corporations and public sector partners in a new initiative to "survey the socially beneficial way" by "donating on behalf of those participating" in funded market research programs around the world. This corporate social responsibility campaign will use a portion of the $18.9 billion spent on market research worldwide to create a global community of non-profit champions, boosters, supporters and members willing to take part in online surveys as a way to channel funds to their designated causes, charities, foundations and non-profit organizations of choice.
Market researchers typically earmark substantial funds to field research and reward panel and survey participants through incentives, rewards, giveaways and other gifts that gain or induce response. By formalizing and linking survey fielding and response to non-profit donations, marketers and researchers can add a powerful altruistic appeal and ensure that market research dollars produce real social value and meaningful benefit to brand image and perception.
Pause to Support a Cause will also resonate with more difficult-to-reach consumers and research audiences and will give non-profit partners a simple and effective way to increase their visibility, attract additional funding, and connect with new donors and contributors. It will help lower research costs, shorten fielding times, heighten response rates, and encourage more active year-round participation in market feedback, engagement and listening programs.
The CMO Council advocacy program will embrace a global coalition of top marketing decision makers, marketing research professionals, and non-profit organizations to aggregate and involve millions of consumers in research undertakings that raise significant levels of new funding for those in need and entities at risk.
How it Works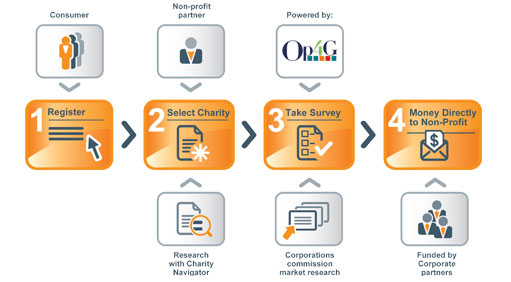 Any individual with a valid email address, male or female, above the age of 16, can register to become a member of the Pause to Support a Cause Research Panel. Once registered, the member will get a username and password, directing them to an exclusive member welcome/profile page.


During registration, users will be asked to select a charity to support. While users can update their selection at any time, users can only select one charity to support at a time. If you aren't sure who you want to support, Charity Navigator providers access to information, including operational and financial data, about hundreds of charities around the globe.


Corporations and market researchers will request and fund new research. Users can log in to view available surveys or promotional offers. Participate and your time gets translated into charitable donations to the charity of your choosing.


Once you complete your survey, Network for Good shuttles the sponsor corporation's sponsorship funds to the charity of your choice. You can keep track of how many surveys you have taken and how much has been sent to your charity.
How It Works

Giving… and receiving… has never been easier. See how your time, your market research or your charity can get involved.



See how it works

The first step in revolutionizing how we give, how we research, and how we accept assistance starts with registering with the Pause to Support a Cause program. Choose to get involved personally, request more information on how to become a corporate user of the Pause Research Panel, or register your charitable organization and start tapping into a broad audience of invested, philanthropic consumers looking to learn more about how to support causes that strike a chord.

Register today
Chief Marketing Officer Council

Pause to Support a Cause, a milestone CMO Council campaign, will enjoin global corporations and public sector partners in a new initiative to "survey the socially beneficial way" by "donating on behalf of those participating." Learn more about the CMO Council

Strategic Sponsors & Partners